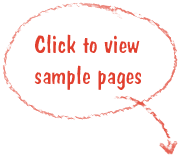 NextMaths series is designed to eliminate the Maths phobia in students.

The content follows story based approach with real-life connect and encourages learning through concrete experiences and pictorial examples.

The content is crafted to build Higher Order Thinking Skills and life skills.

The teacher tips in the books provide innovative teaching techniques.

Every chapter ends with exercises that measure knowledge, skill and application levels of students.

There's a Student's Companion Book for each subject, to provide practice and reinforce the concepts, by extending the class work. It also covers levels of Bloom's Taxonomy.

The textbooks are supported by a detailed Mentor Manual with day-wise lesson plans, detailing out concepts to cover, corresponding activities and referral resources.

We also provide interactive digital books, so learning happens from any place, at any time.
The NextBooksTM team is advised by a board of prominent educators. These professionals have, for decades, been passionately involved in the education sector. With rich experience in their respective domains, the board members are deeply involved in NextBooksTM production right from conceptualising the curricula to final proofing.
Ms Prema Muralidhar, MA, MEd, MBA
has over 28 years of experience as a principal and a CEO. She has led various organisations and chain schools, and has excelled in areas as diverse as teacher/student management initiatives, administration, quality assurance, and training and development.
Dr Dheeraj Mehrotra, M Phil
is an author and an educational innovator. He has authored over 35 books on Computer Science for ICSE/ISC/CBSE schools and has published over 800 papers. He received the National Award for Best Teacher from the Hon'ble President of India in 2006.
Dr Sapna Agarwal, MA, MSc
has been a principal and a Master Trainer. She has conducted over 3000 hours of corporate training.
Ms Sunila Malhotra, MA, Dip. H. E.
has over 40 years of experience in the field of Education. She has been the principal of three well-nown schools. She has also been a teacher trainer and is an author of several school books.
Ms Sunmita Shinde, MA, MEd
has served in premier educational institutions for a decade as a teacher and a teacher trainer. She excels in the fields of copy-editing and material development (ELT). A renowned resource person for English language training, she has conducted several workshops on CCE and experiential learning for CBSE and ICSE schools.
Ms Romaa Joshi, MA
has been the principal of four eminent schools and is now an academic consultant and corporate trainer. She has been an examiner for Trinity College, London for several years.
Ms Poonamjit Kaur, MA, BEd
has been the founding principal of many reputed schools. An expert in education management, she has in-depth knowledge of educational psychology, instructional skills and pedagogy. She constantly tries to adapt and innovate to ensure that teaching and learning can be made interesting and fun. We also acknowledge the feedback from more than 150,000 teachers and 7,00,000 students who have used NextEducation products over the last 9 years.
Maths is a curriculum series envisioned to make mathematics a meaningful and inspiring experience for child. It is based on a paradigm that inspires a child to look around and experience mathematics in his/her immediate environment and relate concepts to everyday realities. Mathematics in this series is thus grounded in reality than in the abstract, and the instructional design adopted focuses on developing a spirit of inquisitiveness and discovery. This has been achieved through thematic treatment of content that uses story-based scenarios. Besides this, the series also focuses on developing problem-solving abilities, logical reasoning while catering to diverse learning styles, and multiple intelligences. The design of the series has incorporated key recommendations made by the NCF, 2005.
The pedagogical elements in the series will sustain the interest of the learners and facilitate in-depth understanding of the concepts in mathematics. The elements in the series inculcate the requisite knowledge, skills, values and space for reflection and critical thinking among children.
This series links the knowledge gained at school with a child's out-of-school experiences. This has been achieved by selecting contexts that are available in the child's surroundings. The story-based approach deals with the most challenging issues while introducing a concept.
This series is supported by the following:
Teacher Manuals, which offer pedagogical support in the form of activities, classroom strategies, listening inputs and answer keys for all the exercises. Each activity in the manuals encourages participatory learning and can be used as a tool for formative assessment.
Resource Kits, which contain manipulatives to help children experience abstract concepts, facilitate meaningful learning.
Worksheets, which begin with a clearly defined set of learning objectives, help children check their learning and provide an opportunity to express their ideas and thoughts through various logical and research-based questions. These develop creative skills and critical thinking skills, including Higher Order Thinking Skills (HOTS).
Digital content, which forms a part of the series, includes TeachNext, Next Education's award-winning digital learning solution, currently being used in over 7,000 schools across India and abroad. TeachNext offers a creative and fascinating mix of digital content, animation videos, quizzes, questions and answers, and tools like geographical maps, pictures and clipart.
The exercises in this book are based on ideas and themes addressed in a balanced manner, and suitably graded from simple to complex and from immediate to remote. Each module in the series facilitates a systematic approach to real-life situations.